Nur Harges got her first introduction to Visma Consulting in 2017 at a fair organised by Aalto University – she signed her internship agreement with us in December of that same year. Now, after graduating as a Bachelor of Business Administration (IT), Nur works as a software developer and software designer using the Visma eBusiness Suite software platform.
Nur's work week involves customer meetings, development of digital services based on specifications created with customers, service maintenance and processing of customer support requests.
"Working closely with the customers is rewarding, as you get to have a genuine contact with the people to whom the solutions we develop ultimately go."
Nur has four lovely children. Over the years, she has taken maternity leave and returned to work on a lightened work week basis that supports her family life.
Hybrid work is a nice change to the everyday routine
Nur finds that meeting teammates at the office and having lunch together enrich the everyday life, and she wouldn't want to work exclusively at the home office. She is happy that it is possible to work flexibly under the hybrid model according to her own wishes at Visma Consulting.
It is nice to agree joint office days with the team. With remote work becoming more commonplace, there is no need to concern yourself over whether you are bothering your colleagues next to you even if the discussions with teammates become louder in volume.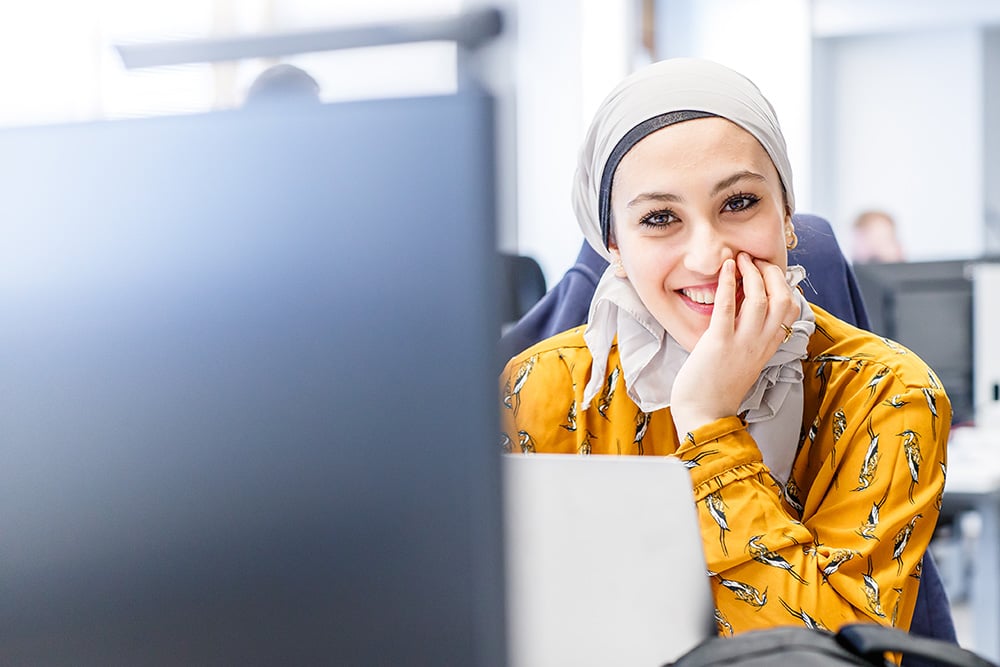 "I want to encourage woman to pursue the IT sector"
Nur says that she felt that, at Visma Consulting, equality and tolerance are realised in everyday life, and she is happy that Visma continues to work in these areas. Stereotypically, she herself has at times been mistaken as someone who works in the female-dominant sectors. In these cases Nur has been happy to correct the misunderstanding and explained that she works in software development.
"We are already living in a time where good employers stand out through their inclusivity. They don't reinforce stereotypes that may be associated with the applicants' gender or faith."
Nur says that dialogue with the team and supervisors at Visma Consulting is just as active as the employee wants. It is easy to raise issues and there are good opportunities for influencing one's own career development through personal activity.
"We have pretty much limitless opportunities here. The extensive organisation supports the growth of your own competence. When I myself brought up my wish to participate in events and recruitment fairs, my supervisor got the ball rolling straight away."
Nur wants to encourage women and people who express their beliefs to be themselves in the world of recruitment.
We at Visma Consulting are proudly involved in developing Finnish worklife for the better. At Visma Consulting, every employee can come to work as their authentic self, and we as a company thrive with the combined strength of different people, perspectives and strengths.
Click here to read more about how it is to work here.